The Benefits of a Hosted Desktop (DaaS)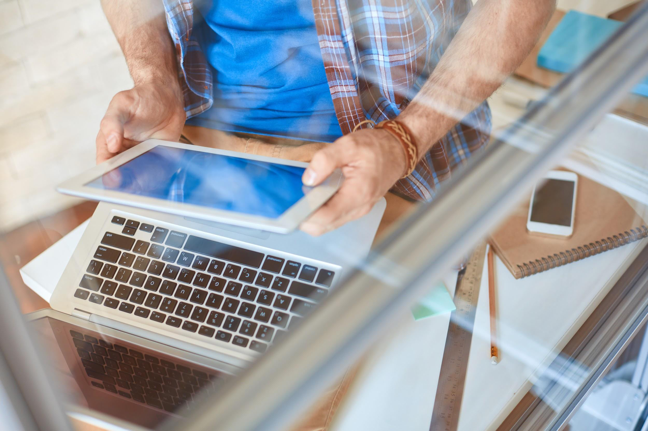 Engines are the driving force behind any automobile, just as computing infrastructures are the backbone of any company. As a business owner, you can survive without a fast car; however, we can't say the same of your company without powerful and reliable computing platforms such as a hosted desktop. They allow you to utilize your data and applications to their optimal capacity to can satisfy clients and maximize profits.
But does this mean you need to invest in the most expensive computers? Not at all. Although that might help, you'll inevitably need to play catch up with the latest technology; a more costly solution.  So how do businesses capture value, improve workforce mobility, reduce computing expenses, and simplify desktop management? Many turn to a Hosted Desktop.
What is a Hosted Desktop?
A Hosted Desktop, also known as Desktop as a Service (DaaS), combines cloud computing and virtualization technologies to create a virtual desktop that can be securely accessed over the Internet. This provides a single access point for all your applications and files so you'll no longer be tied to your office desktop system.
Why choose a virtual desktop over a physical solution?
When compared to a client-server computing system, a Hosted Desktop supports a Bring Your Own Device (BYOD) policy. This maximizes your employees' mobility and increases efficiency. You'll be able to access anything you need on your computer using any device running any operating system from anywhere. This forms the foundation to move business applications and infrastructure from physical servers to the cloud. Should you need access to files and applications that reside on on-premises servers, a Hybrid Cloud configuration has you covered. This is just one of the many benefits a virtual desktop has to offer.
Tighter security
A Hosted Desktop shifts the security burden from vulnerable devices to a data center with the highest levels of protection. Think encryption, multi-factor authentication protocols, and regular backups. These protect your business from natural and manmade disasters, ensuring critical files and applications are always safe and secure.
Increased productivity
As mentioned above, a Hosted Desktop makes it easy for your employees to use their own devices to log in to company systems. This eliminates downtime because your employees have immediate access to the information they need from wherever they are. No more having to wait until they get back to the office or until colleagues send over files.
As a matter of fact, a recent survey by Forbes reveals that remote workers are happier, with 91% also feeling more productive when given the freedom to work outside the office.
Efficient IT management
A Hosted Desktop helps centralize work-related systems and applications, allowing your service provider to manage them more efficiently and easily. Your entire staff will have access to the same versions of applications, leading to a more unified environment and an optimized user experience. New employees will integrate into your systems quickly without any major overhaul to your IT infrastructure. In addition, a Hosted Desktop lets you scale up or down according to your actual needs, ensuring you pay only for what you use.
Cost savings
With a Hosted Desktop, there's no need to upgrade to a new platform or hardware because all you need is an Internet capable device. This is extremely cost-effective since new hardware and platforms are expensive and will eventually need replacing.  Hosting your applications and data in the cloud for access by your Hosted Desktop reduces operating costs since you no longer need electricity and cooling utilities for your servers. And with a predictable monthly fee, you can reduce your capital expenditures and say goodbye to expensive licensing, too.
Confining employees to the office is like having a sports car that you only rev up in the garage. Business owners need to leverage technology to give their staff the tools they need to take work outside the office and maximize productivity. A Hosted Desktop does exactly that. As a cloud provider, SimplyClouds has extensive experience with Hosted Desktop deployment, customization and maintenance. If you have questions or would like to know more about how DaaS can help your business, give us a call. We're always happy to help.
Categories: Hosted desktop, Services
Share